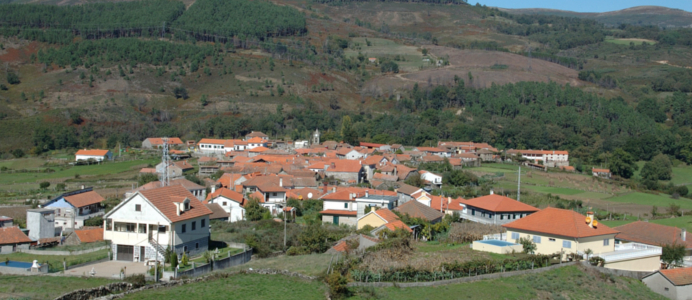 Being one of "Barrosãs" parishes with less distributed area yet also the most productive per square meter of territory. On the other hand, the village is also one of the most populous, as it stands in eighth place (alongside Solveira) with a population of 135 people of the county. Such an indication (alongside other significant indicators) should serve as warning to the present powers in the sense of providing a more equitable distribution the benefits to the populations. It's the only parish that has no access to other villages!
Of the glories they always enjoyed (without the intent of ever obstructing the legitimate capital – honors, "coutos" and county headquarters) have all been unfairly withheld with evident harm for an orderly and informed population! It prides itself of its villas, disseminated over the valley and floodplains and well witnessed in medieval documents and in the invigorating place names; its strategically placed forts over lines of water that enter the Regavão; their funerary monuments (cists discovered in two hill tops), Donim and Gorgolão, about which ran stories filled with charm; of its small hill (altarium) where the most remote indigenous raised an altar to worship their Gods and on which, next to Paço (that today is the local cemitery) built the oratory and basilica, that is today the church; of the very old bridge that united the marginal valleys that during centuries was the only wintry passage for the villages of "entre-os-rios"( between-the-rivers). Speaking of the river, we should remember to continue saying Regavão. With a V or a B is indifferent as we do not deal with fads.
But this is how the people said it! And said well as always! The oldest known document until today called it Regavam (1258)! As far as we know, it is the only "transmontano" river that can brag of having a published monograph in form of letter, authored in 1938 by University of Coimbra Professor Raul Miranda.
Area: 10.7 km2
Population Density: 16.4 hab/km2
Present Population: 176
Patron: Santa Maria Madalena
 
Attractions:
As Cistas;
Moinhos;
Igreja e Museu Paroquial;
Canastros;
Castros e Via Romana;
 
Parish Villages: (2) Bustelo e Vila da Ponte.
 
Address:
Junta de Freguesia de Vila da Ponte
Travessa da Fecheira, n.º 1
5470-543 Vila da Ponte - Montalegre
Telephone:  276 566 213
Email: [email protected]