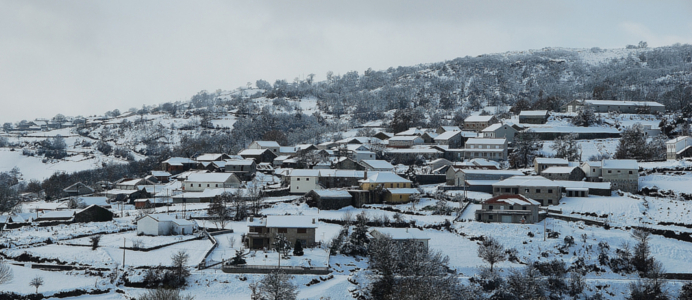 SEZELHE
Both villages of this parish were headquarters, however, attached to Santa Maria de Montalegre. The buildings in both villages are built between the nine hundred and a thousand meters of altitude. Like the rest of the county, these are villages of agriculture, broad mountains for hunting and good spots of grove for timber and firewood.
The known documents do not authorize the spellings of this village name with a Z, as is sometimes seen written. The breeding of cattle was so important that the people of Travassos do Rio, raised a tower of the champion bull in the middle of the village. Its inhabitants should also feel proud because Travassos, second to Salto, is the Barroso village referenced in the authentic and oldest documents: these are two documents of Tombo de Celanova, in Galicia, related to donations intended to the Monastery and both in terms of Travassos, dated in the years from 953 to 976, in which one of them the donor was the mother of bishop São Rosendo! 1053 yeas ago!
Many times, "the heart has reasons, that reason does not know" and so, sometimes, we find "canastros" (traditional storehouse for corn), "tulhões", "cortes de boi", traditional community ovens and mills made with so much perfection and balance as if they were altars or shrines. Immigration that has been "bleeding us", and at this rate, will force us to merge four or five neighboring parishes into one.
COVELÃES
It is the first parish contours the Mourela sierra. This sierra, true plateau of average altitude on its way to 1100 meters, is and was, since the megalithic times, an appropriate place for the ascending transhumance. Indeed, the nearby villages lead numerous cattle "vezeiras" (when various people unite their cattle and take turns to take them to graze in the mountain) that last the whole summer.        
This custom has origin in the pre – historic ancestral that filled that place with tombs, a sign that they lived and died there. Something that is also dead or almost dead is the "perdiz cinzenta" (grey partridge), also known as "charrela". We should be ashamed of such news!
The current parish is composed of two villages: Covelães and Paredes do Rio. Both have been head of the parish. The first patron was Santa Maria, and the present is Santo António. In this village exists a stomp amongst many other curiosities worthy of a visit, including a room that serves as the Ecomuseu information technology network.  
Area: 22.8 km2
Population Density: 11.1 hab/km2
Present Population: 254
Patron: Santo André(Seselhe), Santa Maria(Covelães)
 
Attractions:
Torre do Boi (Travassos);
Barragem do Alto-Cávado(Seselhe);
Moinhos, Espigueiros com relógio de sol, Pisão com engenho hidráulico (Paredes);
Relógio de Sol (Covelães);
 
Parish Villages: (4) Travassos, Seselhe, Covelães e Paredes do Rio.
 
Address:
União de Freguesias de Seselhe e Covelães
Rua da Costa do Vale, n.º 2
Travassos do Rio
5470-472 Seselhe - Montalegre
Telephone:  933 894 784
Email:  [email protected]
Website:  http://jfsezelhe.wordpress.com