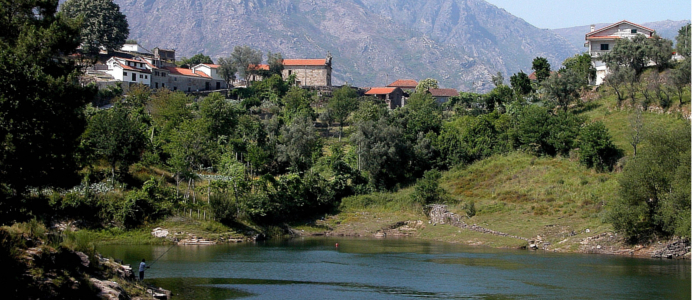 Cabril is a puzzle of tiny villages along the sheltered slopes that descend over the rivers. Sertelo (this is the diminutive of desert - Desert + elo> Desertelo as wilderness resulted Ermelo, (after the initial aphaeresis results Sertelo) which lies above 700 meters, and Lapel Pincães, above 600 meters, S. Lourenço, Chelo, Fafião and Azevedo, above 500 meters, and Bustochão Vila Boa, above 400 meters, and all other, Cabril (already called the Village or Downtown), Cavalos, Chaos, Fontaínho, São Ane and the Chã do Moinho does not rise beyond 300 meters in altitude. Not surprising that, in these warm, moist depths, Barroso pride to reap good fruit, wine and olive oil in the parish of Cabril. Pincães was the first village in the municipality to have the honor of its monograph published, written by Jacinto de Magalhães.
It is the second largest parish in the county (76.6 km2) and probably the most bucolic, the richest in terms of tree and bird species and also the most beautiful in the multifaceted aspect of their Edenic landscapes, undoubtedly due to orographic and climatic conditions that the Gerês mountain range presents.
Area: 76.6km2
Population Density: 7.8 inhab/km2
Present population: 595
Patron: S. Lourenço
Attractions:
• Olive Press and Camping of Outeiro Alto (Cabril);
• Fojo do Lobo (Wolf Trap) and Rio Toco (Fafião);
• Senhora das Neves (S. Lourenço).
Parish villages: (15) Azevedo, Bostochão, Cabril (Vila), Cavalos, Chãos, Fafião, Fontaínho, Lapela, Pincães, São Ane, São Lourenço, Vila Boa, Chelo, Sertelo and Chã de Moinho.
Address:
Rua 25 de Abril Nº17,
5470-013 Cabril - Montalegre
Telephone: 253 659 970
Email: [email protected]
Website: http://www.jf-cabril.pt/